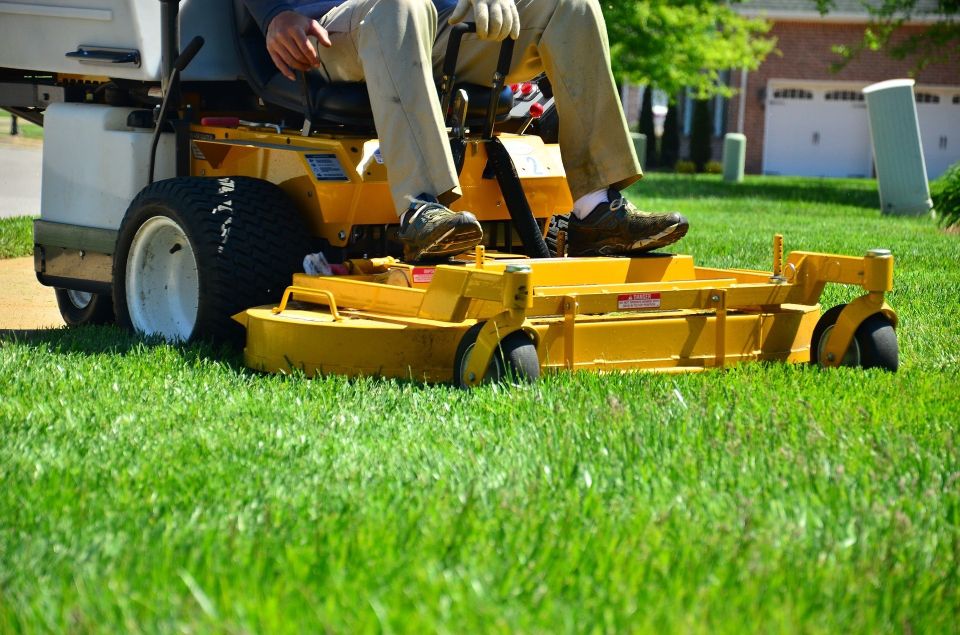 Your Grass Keeps Growing
Weekly lawn mowing is an essential task for homeowners who want to keep their lawns healthy, attractive, and well-maintained. It is a crucial component of lawn maintenance that offers numerous benefits for homeowners and their lawns. Let's take a closer look at the advantages of weekly lawn mowing.

One of the primary benefits of weekly lawn mowing is improved lawn health. Regular mowing promotes a healthy, lush, and green lawn by removing the tips of the grass blades, which stimulates new growth. This encourages a thicker and more uniform lawn, reducing the risk of disease and pest infestations. Additionally, regular mowing keeps the grass blades at a consistent height, promoting uniform growth and encouraging the development of a dense root system. This helps to keep the lawn healthy and resilient, even during periods of drought or other environmental stressors.

Another benefit of weekly lawn mowing is enhanced lawn appearance. Regular mowing keeps the lawn looking neat, tidy, and well-manicured, greatly improving the overall appearance of your property. This increases your property's value and curb appeal, making it more attractive to potential buyers or renters. Additionally, a well-maintained lawn creates a welcoming and inviting atmosphere, making your property more attractive to visitors and guests.

Weekly lawn mowing prevents unwanted growth, such as weeds and unwanted grasses, from taking over your lawn. By regularly mowing the lawn, you can help to prevent these unwanted species from establishing themselves, keeping your lawn uniform and well-maintained. Additionally, regular mowing removes any brown or yellow patches that may appear on the lawn, preventing the spread of disease and keeping your lawn healthy and green.

Another benefit of weekly lawn mowing is that it promotes a more sustainable lawn. Regular mowing reduces the amount of water, fertilizer, and pesticides needed to maintain a healthy and attractive lawn. This reduces the environmental impact of lawn maintenance and promotes a more sustainable and eco-friendly landscape. Additionally, regular mowing reduces the amount of grass clippings and other organic material produced, reducing the amount of yard waste generated and promoting a more sustainable environment.

In conclusion, weekly lawn mowing provides a wide range of benefits to homeowners and their lawns, including improved lawn health, enhanced lawn appearance, increased property value, promotion of a sustainable lawn, and promotion of a safe and secure environment. Whether you want to improve the health and appearance of your lawn or maintain a well-manicured landscape, weekly lawn mowing can provide the results you are looking for. Make regular lawn mowing a part of your lawn maintenance routine to keep your lawn looking its best.
Lawn care maintenance packages may include:  
Looking for a reliable and professional lawn care service to take care of your yard? Look no further than our expert team of lawn care specialists!

We understand that maintaining a lush, healthy lawn requires more than just occasional mowing. That's why we offer a comprehensive range of lawn care services to keep your yard looking its best all year round.

Our services include:
* Lawn mowing, trimming, blowing
* Spring and fall landscaping clean out. 
* Mulching
* Lawn Fertilization
* Aeration and overseeding
* Leaf and debris removal

Our team of experienced and licensed lawn care professionals will work closely with you to create a customized plan that fits your unique needs and budget. We also offer even billing to keep your budget inline.

We use only the highest quality equipment and products to ensure that your lawn stays healthy and beautiful.
We take pride in our commitment to customer satisfaction and offer a 100% satisfaction guarantee on all of our services. You can trust us to deliver reliable and high-quality lawn care services, every time.

So why wait? Contact us today to schedule your lawn care services and let us help you achieve the beautiful yard you deserve.
Which Plan Best Suits Your needs?
I am excited to introduce a hassle-free way to manage your lawn care with our new lawn and landscape maintenance packages. Just pick your preferred level of service and we'll take care of your entire yard for one automatic, consistent monthly payment. 
Pro-Starter
Package
✔ Weekly Mowing
✔ Trimming Edging & Mowing
✔ Double Cutting as Needed







 
Pro-Plus
Package
✔ Weekly Mowing
✔ Trimming Edging & Mowing
✔ Double Cutting as Needed
✔ Spring Clean Out
 ✔Mulching
✔ Fall Clean Out
✔ Leaf Management



 
Pro-Premium
Package
✔ Weekly Mowing
✔ Trimming Edging & Mowing
✔ Double Cutting as Needed
✔ Spring Clean Out
✔Mulching
✔ Fall Clean Out
✔ Leaf Management
✔ Lawn Fertilizing
✔ Weed Control
✔ Treatments
✔ Aeration and Overseeding